Accommodation & Overnight Stay

Olofströms kanotcentral
Accommodation & overnight stay
Adjacent to The Canoe Centre is Halens Camping for overnight stays in tents, cabins or hostels (92 places). There is also restaurant "Inn Halen" with full rights.
We can book a place for you, or book yourself here.
We also have collaborations for overnight stays with different hotels and their packages, see the hotels website or visit Visit Olofström
Free fishing in Halen for our paddling customers!
We sell fishing licenses to raslången and immeln.
Raslången – Filkesjön – Gillesjön – Tuesjön
–
Perch, pike, bream, rainbow, roach, trout.
Daily pass Individual/Family (2 adults and children up to 17 years): 60 SEK
Weekly card Individual/family: 220 SEK
Annual pass (Calendar year): 550 SEK
Group card (max 15 persons): 120 SEK/day.
For more info contact Harasjömåla Fiskecamp
:http://www.harasjomalafiskecamp.com/fiske/fiskekort/
Immeln
–
Perch, pike, bream, roach, sutare, whitefish, trout and eel.
Daily pass: 50 SEK
Weekly card: 100 SEK
Annual pass: 400 SEK
Fishing map: 30 SEK
Children under 15 years old free of charge with adu
lt paying. Fishing licenses are also sold in Immeln through: https://www.i
Fiske.se/
Immelns Fiskevårdsförening: https://www.immelnfiske.se/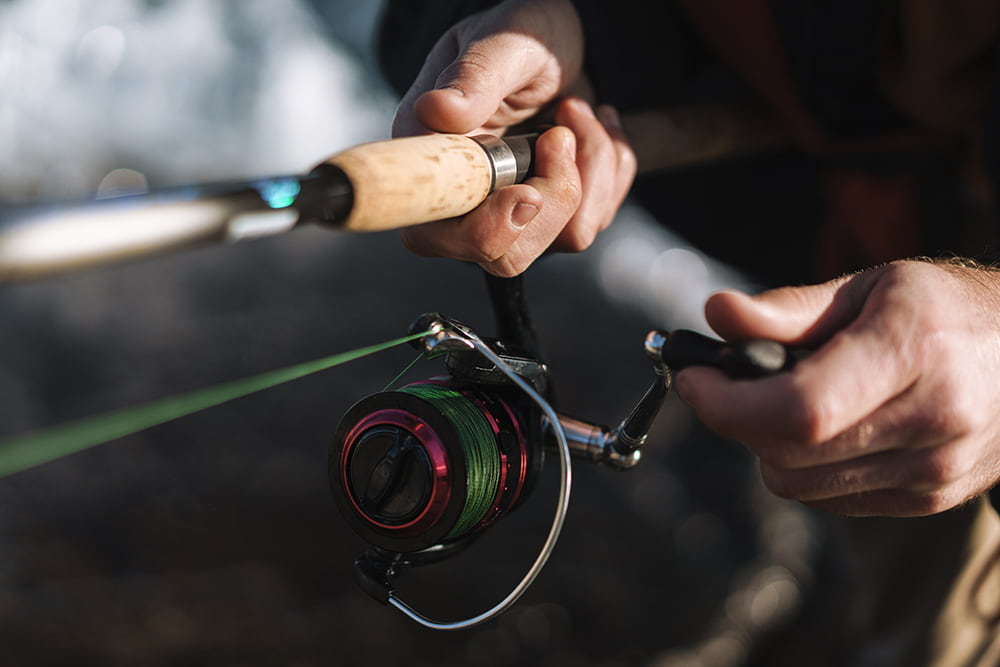 Discover our range and the right equipment for you.
Canoe
The rent includes 2 paddles, 2 life jackets, 1 water can 5 l. and 1 map/3 canoes. Additional
equipment is available for rent. Some
habit is required and done at your own risk
All canoes we have for rent are Linder's aluminium canoes, Inkas 525.
Length: 525 cm
Width: 90 cmW
eight: 38 kgL
oad capacity: 400 kgNum
ber of people: 3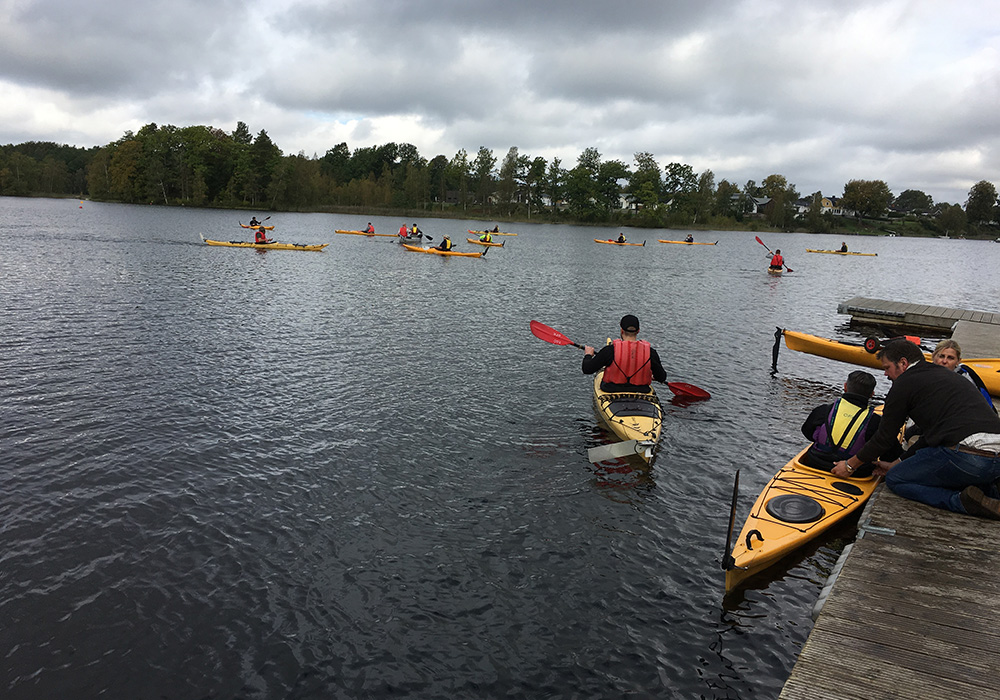 Kayak
The rent of Kayak includes 1 paddle, 1 paddle vest, 1 canopy, 1 water can 5 l and 1 map. Additio
nal equipment is available for rent.
Some habit is required and swimming skills are required.
In the range of kayaks there are kayaks of the brands Prijon and Tahe. Two proven and safe polyethylene sea kayaks.
They also fit most people in size.
We recommend unaccustomed not to paddle alone it is done at your own risk.
Double kayak
The rent of a double kayak includes 2 paddles, 2 paddle vests, 2 canopy, 1 water can 5 l and 1 map. Additional equipment is available for rent.
Some habit is required and done at your own risk
Booked at the Booking Office. Tel.+46(0)454 402 80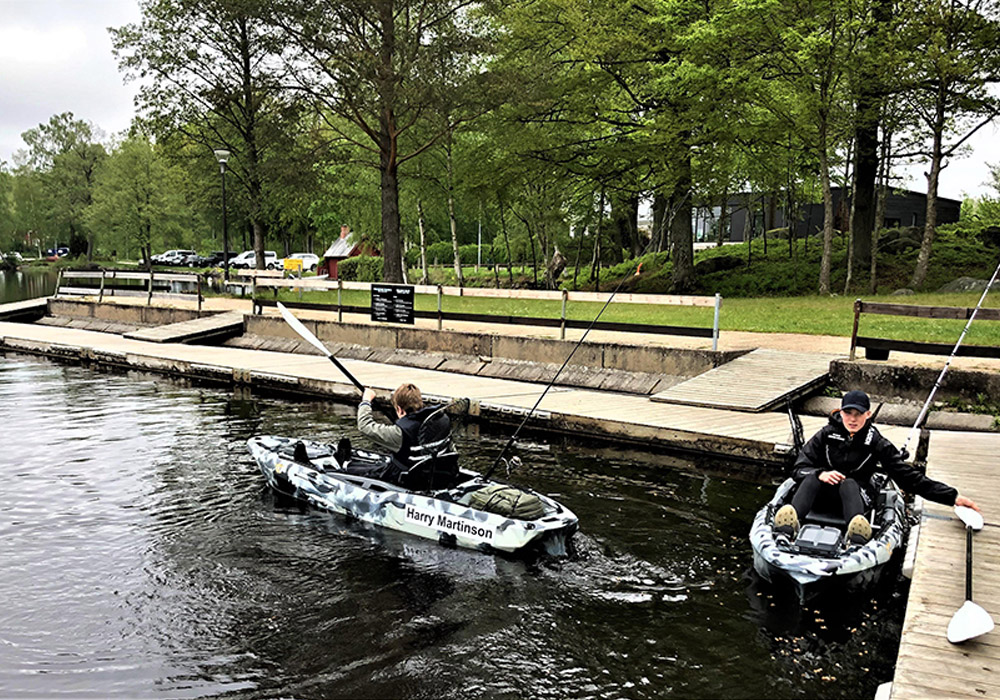 Fishing kayak
With a fishing kayak you can easily get around the shallow waters and places where it is difficult to get by boat. This gives you a whole new set of conditions for catching the fish you are after!
Stand Up Paddleboard (SUP)
We have SUP boards from Redpaddles.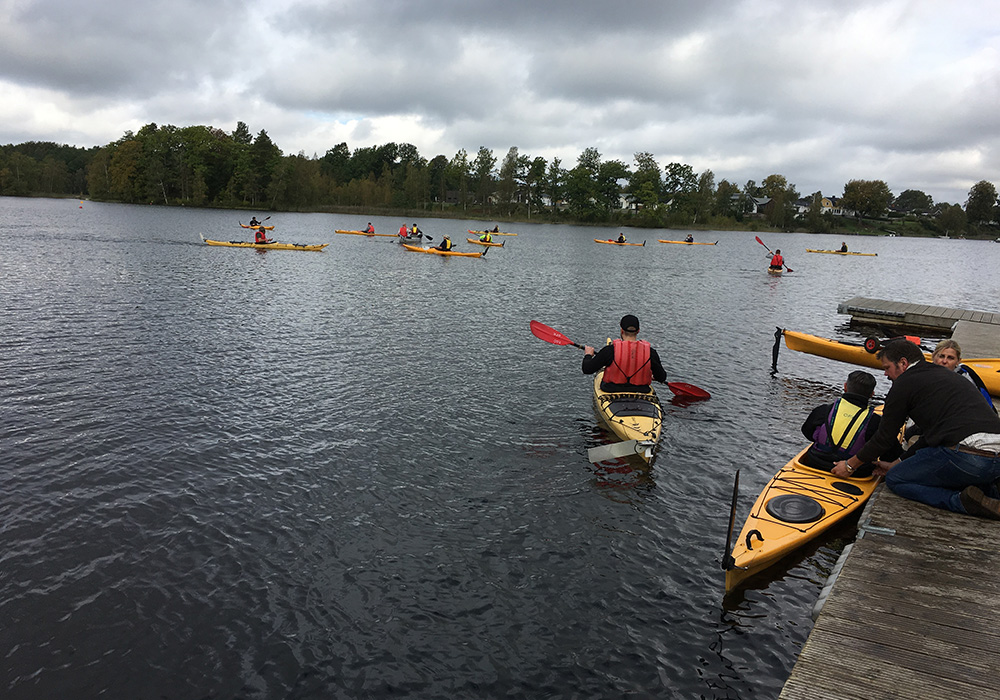 Kajak
I hyran av Kajak ingår 1 paddel, 1 paddelväst, 1 kapell, 1 vattendunk 5 l samt 1 karta.
Extra utrustning finns att hyra.
Viss vana krävs och simkunnighet krävs.
I Utbudet av kajaker finns kajaker av märkena Prijon och Tahe. Två beprövade och trygga havskajaker i polyeten.
De passar även storleksmässigt de flesta personer.
Vi rekommenderar ovana att inte paddla ensamma det sker på egen risk.
Kanot
I hyran ingår 2 paddlar, 2 flytvästar, 1 vattendunk 5 l. samt 1 karta/3 kanoter.
Extra utrustning finns att hyra.
Viss vana krävs och sker på egen risk
Alla kanoter vi har för uthyrning är Linders aluminiumkanoter, Inkas 525.
Längd: 525 cm
Bredd: 90 cm
Vikt: 38 kg
Lastkapacitet: 400 kg
Antal pers.: 3
Dubbelkajak
I hyran av dubbelkajak ingår 2 paddlar, 2 paddelvästar, 2 kapell, 1 vattendunk 5 l samt 1 karta. Extra utrustning finns att hyra.
Viss vana krävs och sker på egen risk
Bokas på Bokningskontoret. Tel.+46(0)454 402 80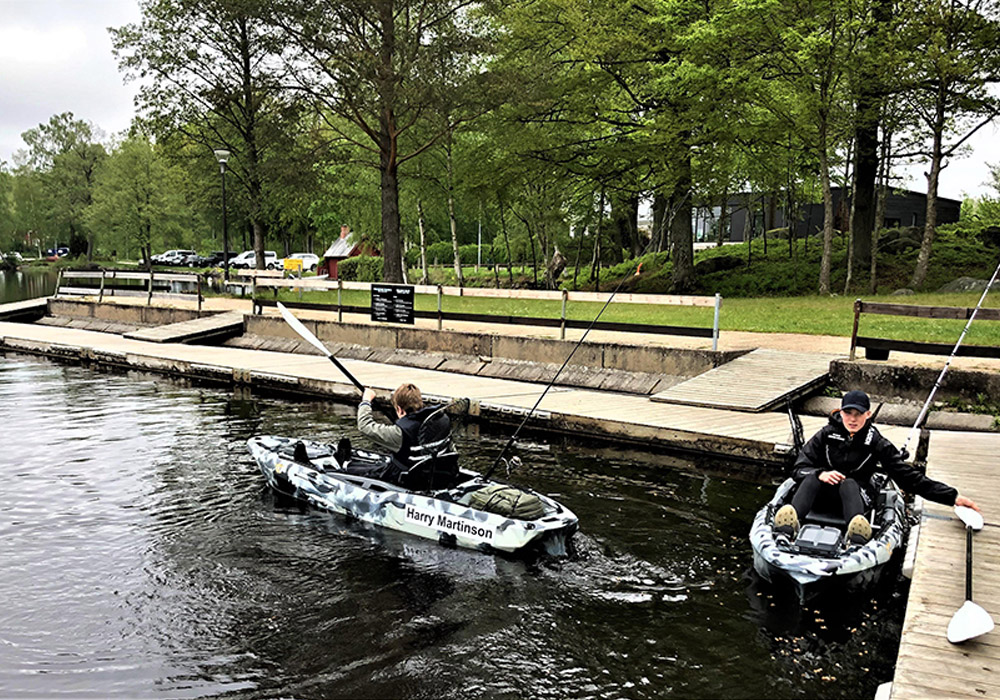 Fiskekajak
Med en fiskekajak tar du dig lätt fram på grunt vatten och ställen dit det är svårt att ta sig med en båt. Detta ger dig en helt nya förutsättningar för att fånga fisken du är ute efter!
Stand Up Paddelboard (SUP)
 Vi har SUP- brädor från  Redpaddles .
For rent at the time of booking
Some habit is required. We recommend unaccustomed not to paddle alone. All activities are at your own risk. For those who need extra stability, when fishing or if you are disabled, pontoons are available to borrow.
In order to offer accommodation places with good service and necessary equipment, Olofström Municipality charges a fee to everyone who paddles with overnight accommodation in the lake system Halen – Raslången – Immeln. This means that wood is available at the rest areas. You can also buy firewood at the time of delivery. 1 bag costs only 25 SEK.
The fee is currently 50 SEK per canoe or kayak and night and the proceeds go in full to maintenance of the rest areas.
An inspection officer is employed to inform paddlers in the lake system about the applicable rules, check that the rest areas are in good condition and make sure that paddlers who overnight in the system pay the service fee
The service fee is paid at Halens Kanotcentral or Turistbyrån in Kommunhuset Östra storgatan 5 and Immelns Kanotcenter.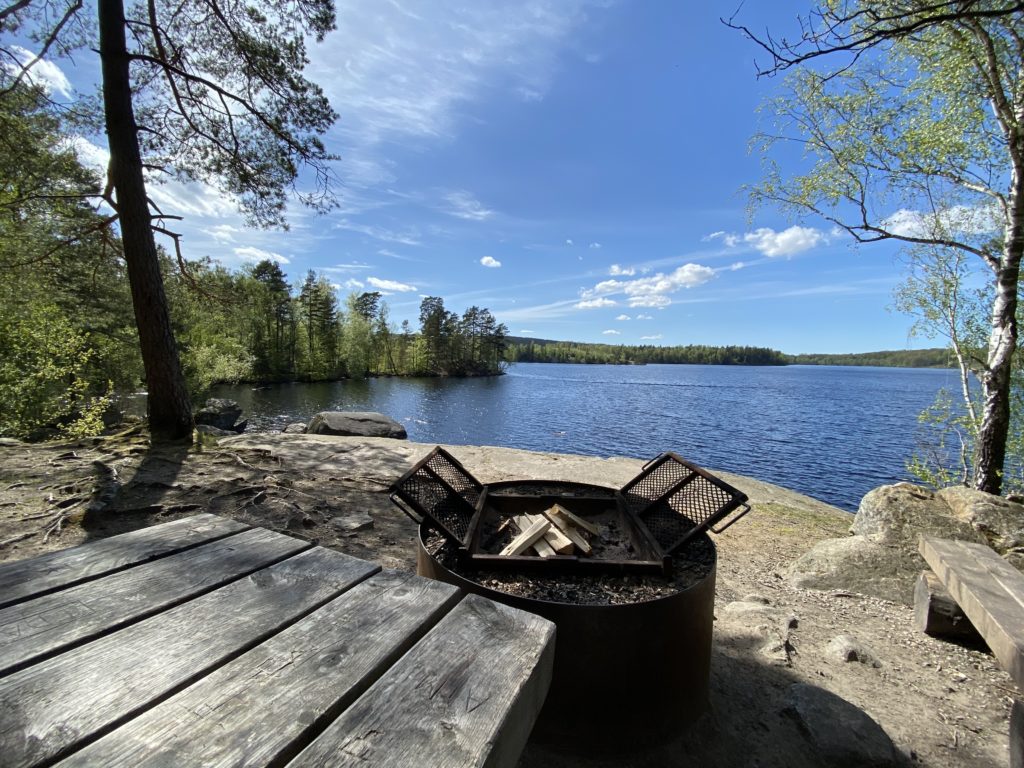 We accept the most common bank and credit cards as well as Swish.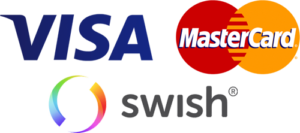 Detta är grundregeln i den svenska allemansrätten som du här kan läsa valda delar ur. För mer detaljerad information hänvisar vi till www.naturvardsverket.se.
Gå
Du får ta dig fram till fots, cykla, och rida i naturen, men privat tomt, plantering och brukad mark är förbjudna områden. Glöm inte att stänga grindar efter dig.
Tält
Du får tälta med ett tält ett dygn. För att tälta längre tid, i närheten av hus eller med flera tält bör man fråga markägaren om lov.
På vattnet
Du får åka båt, ligga tillfälligt förtöjd, gå iland och bada vid stränderna, utom i närheten av boningshus. Observera att det finns fågelskyddsområden och andra områden där det är förbjudet att vistas.
Fiske
Du får fiska fritt med spö och vissa andra handredskap utmed kusterna och i våra fem största sjöar. I övriga vatten krävs tillstånd. Det fria fisket omfattar inte nätfiske, angelfiske, trolling och dragrodd.
Hund och jakt
Lämna djurens bon och ungar ifred. Att skada eller ofreda djur är förbjudet. Av hänsyn till det känsliga djurlivet får hundar inte löpa lösa i naturen tiden 1 mars – 20 augusti. Även annan tid måste hunden hållas under noggrann uppsikt i naturen. I friluftsområden och på öar i skärgården råder ofta kopplingstvång.
Eld
På sommaren är det ofta eldningsförbud. Då är all öppen eld förbjuden – även vid iordninggjorda eldplatser. Annars är det tillåtet att göra upp eld under största försiktighet. Släck noga! Elda aldrig direkt på berget! Det spricker sönder med fula sår som aldrig läker.
Bär, svamp och annat
Du får plocka vilda bär och svamp, och blommor som inte är fridlysta. Det är dock förbjudet att utan tillåtelse hugga ner träd eller buskar, bryta grenar eller kvistar, ta näver eller på annat sätt skada växande träd.
Ta med skräpet!
All nedskräpning utomhus är förbjuden. Krossat glas, burkar, plast, fiskelinor och annat skräp kan skada både människor och djur.
Lagskyddad natur
Det här är symbolen för lagskyddad natur som nationalparker och naturreservat. Där gäller vanligen särskilda föreskrifter som kan inskränka allemansrätten.
I både naturreservat Halen och naturreservat Pieboda är det enligt föreskrifterna inte tillåtet att göra upp eld annat än på särskilt iordningställd eldstad. Det är inte heller tillåtet att skada eller elda död ved man finner i naturen. 
Källa: www.naturvardsverket.se
The right of public access gives you no obvious right to make a fire, just an opportunity to burn in safe conditions. In the folder Eldning and allemansrätt you will find out more about when you may and may not burn in nature and how to do it safely.
Click here to read more about the Brand Risk Out app.
Olofströms Båtklubb has at its jetty in Halen placed a Heart Starter that is available all year round, day and night for everyone.
The boat club has its jetty with the heart starter 200 meters south of Bergatorpet.
Coordinates: 56°15'16.6″N 14°28'50.9″E
Click here for heart starter map (opens in Google Maps)
Note! There is also a heart starter located at the nearby campsite.
We are well connected if you choose to travel by train / bus from Copenhagen / Malmö. Take the Öresund trains to Bromölla where bus 561 to Olofström is waiting at the railway station. The
bus timetable is adapted to the arrival times of the trains.
If you come from elsewhere in the country, change in Hässleholm to öresundstågen and hop off in Bromölla.
In Olofström you hop off at the stop Nebbebodagården at the entrance to Olofström. From here it is about 900 m to the canoe centre via a walk and bike path that is marked Blekingeled-Skåneled until Kanotcentralen.
Travel time Malmö-Olofström: about 2 hours 5 min.
Read more on Skånetrafiken for detailed itineraries.
(Do you need to shop before your canoe trip? Take bus 561 all the way to Olofström Travel Centre, where both LIDL and Willys are located at a distance of 100 metres in each direction. Then go back by bus 561 to the stop Nebbebodagården, or walk there along Idrottsvägen south to you reach the stop at the roundabout on road 116.)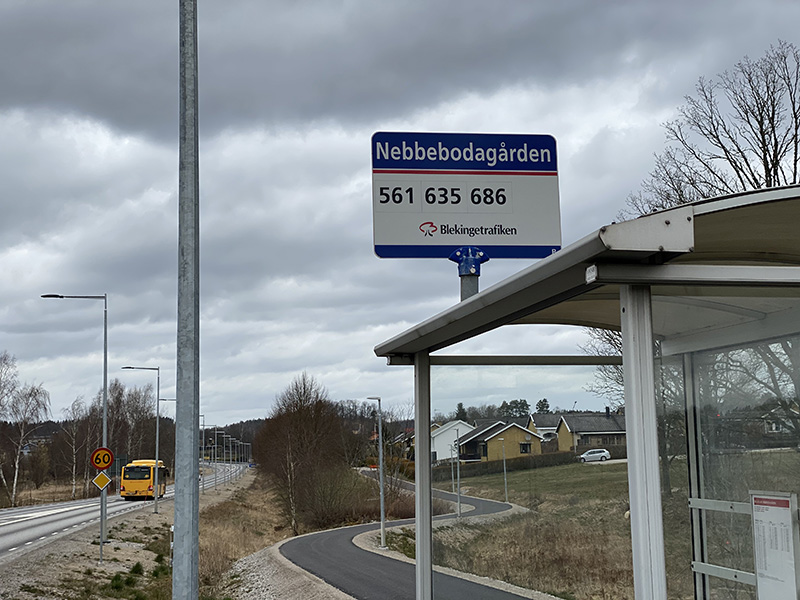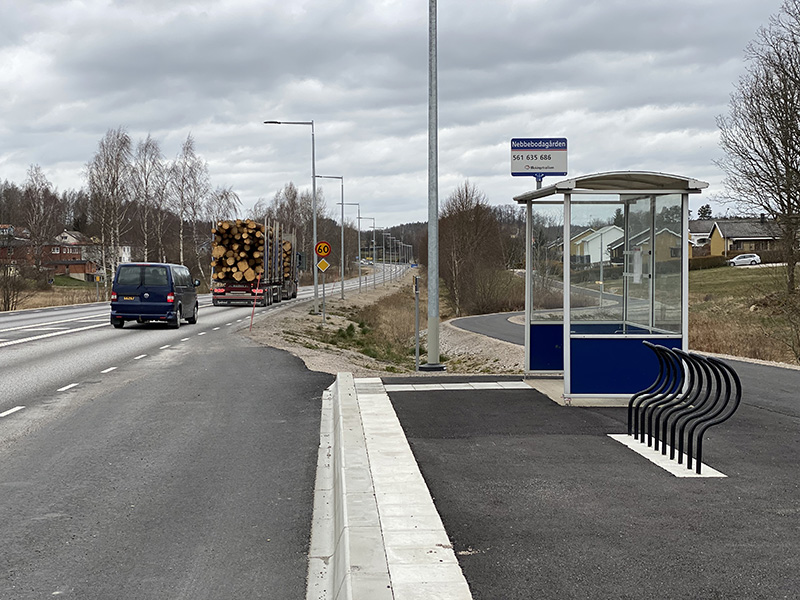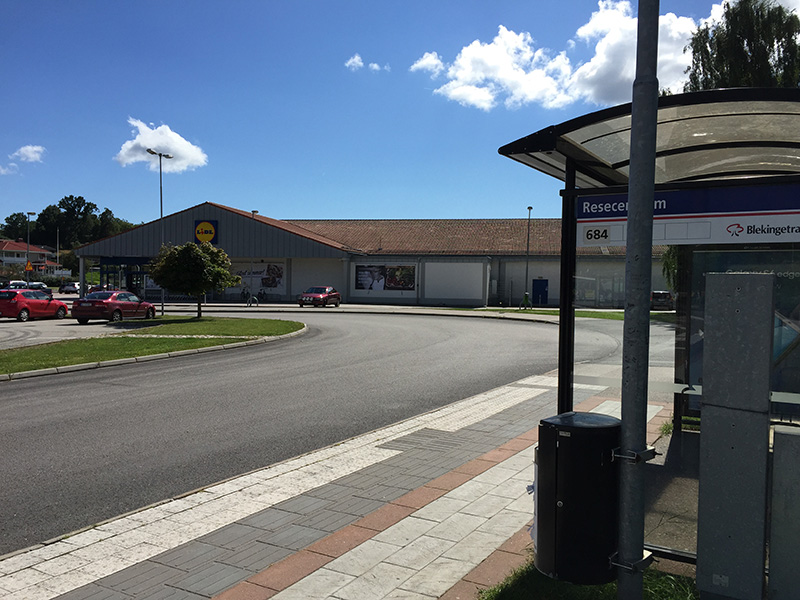 When you arrive at Olofström by car / Mc on highway 15 there is directions until Kanotcentralen on Strandvägen 14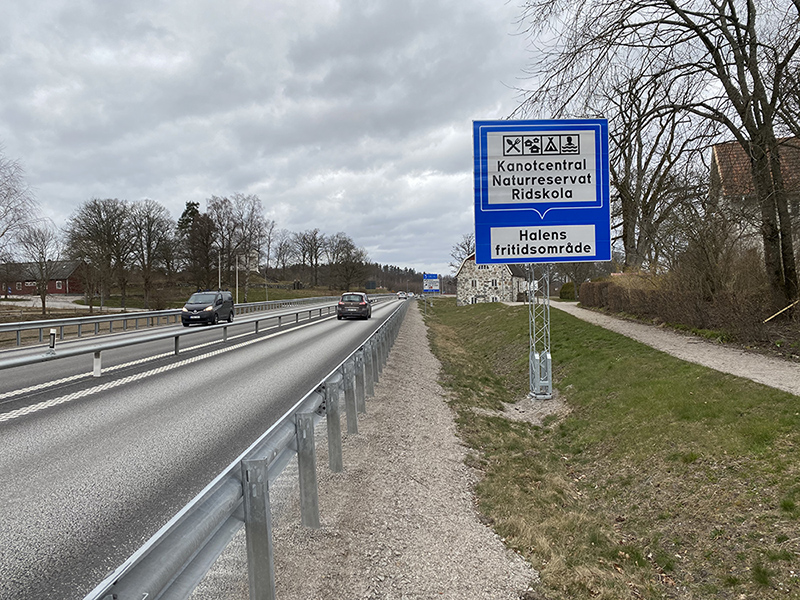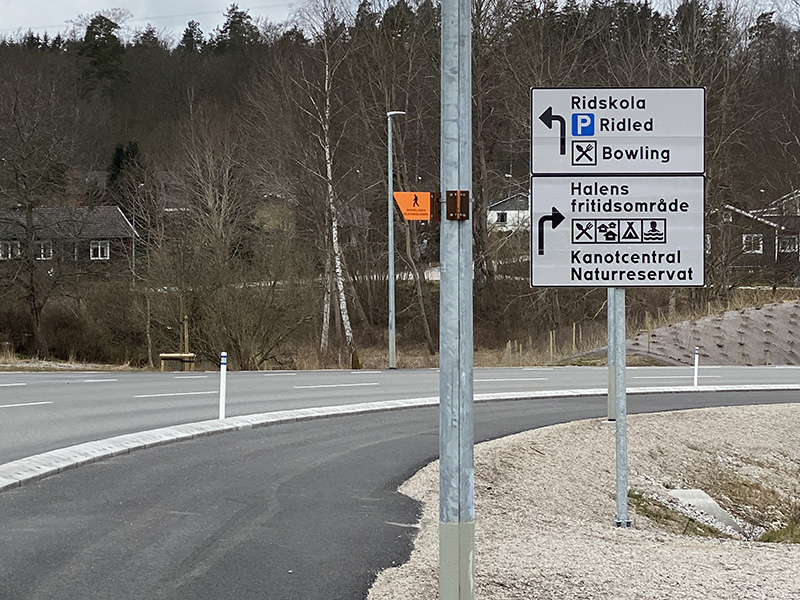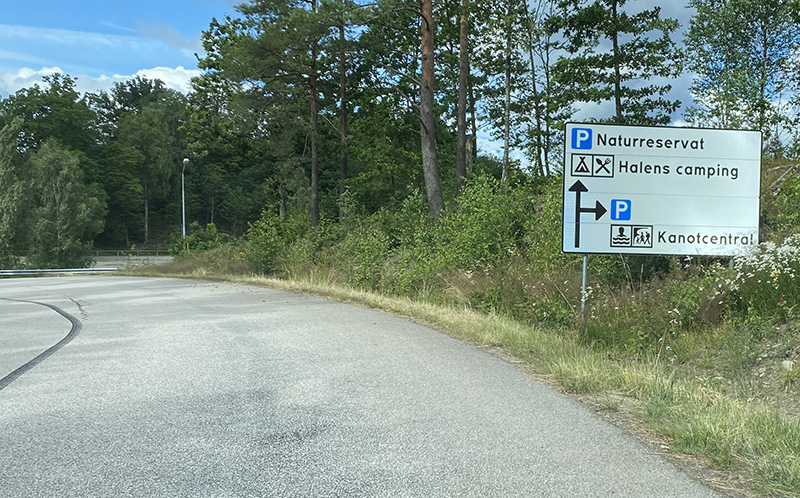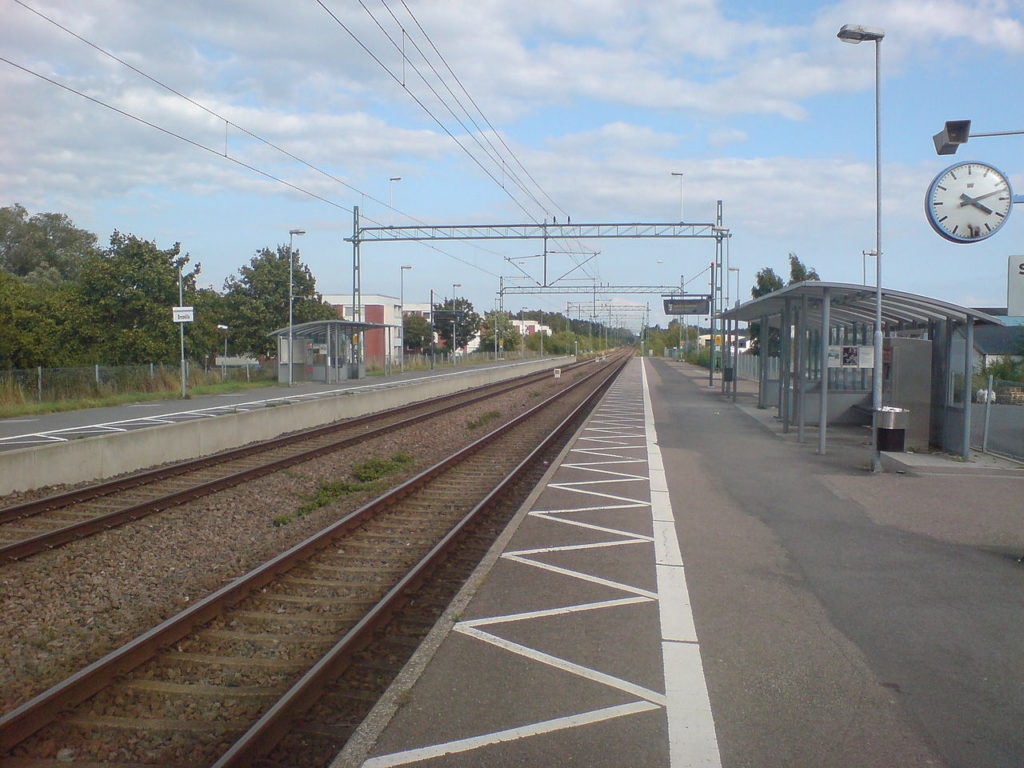 Normally you paddle in Halen and Raslången and borrow a canoe cart for transport between the lakes. We can help you with the transport of canoes / kayaks for an additional fee and you have opportunities to start or finish at another location in the lake system.

Booking of transport is made before booking a canoe/kayak to the booking office Tel. 0454-40 280. To take passengers, a special contract must be made.

Customers of canoe transport must be on site at the scheduled time and help the driver with loading and unloading the canoes. If you are not in place at a certain time and we need to get help loading/unloading the canoes, you will be charged extra.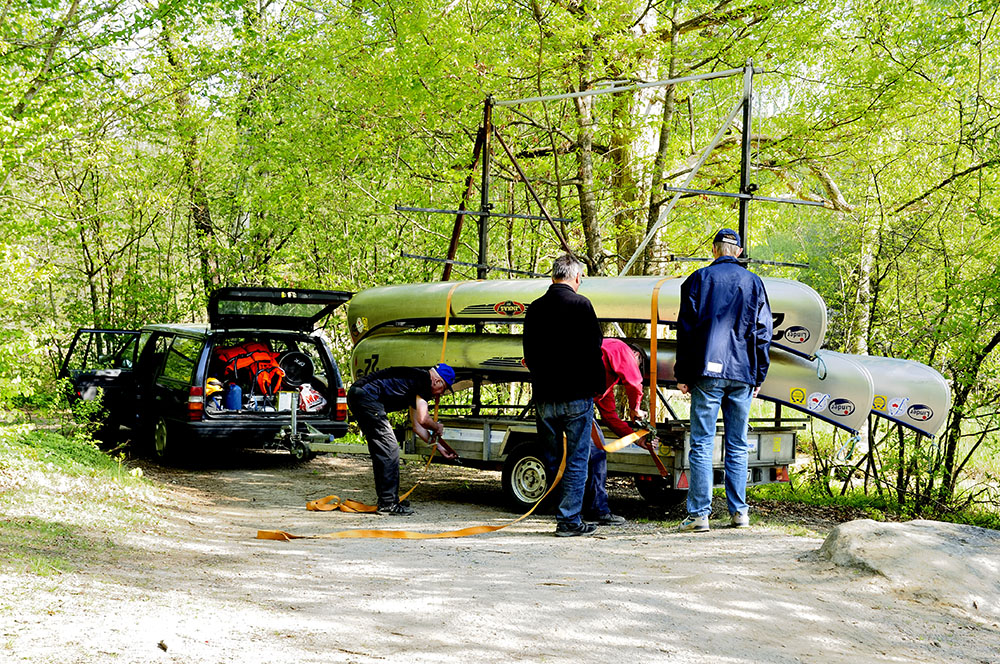 Olofströms Fritidsklubbs Kanotsektion offers a beginner's course 2020 for those who want to learn the basics of kayaking.
We talk about equipment, upholstery, we train launching, disembarking, paddle technique, companion rescue and finish with a paddle tour on lake Halen where you get to practice paddling.
After you have paddled and trained on rescue exercises, there is the possibility of a shower and sauna.
Equipment:
– Thinner overalls pants, tights alt. functional long underwear + shorts, functional shirt, thinner fleece, rain jacket, windproof jacket.
– Rubber sandals or sneakers that may get wet.
– Water bottle + something to chew on.
– Towel and change of clothes.
Book Padelpass/Kayak Course
Contact us for more information about how, where and when the next opportunity for examination/kayak course is given or to book your own examination.